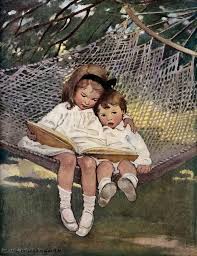 Action! Now! Want it yesterday!
This is now we live. Like it or not.
Musing. Thinking. Considering. Understanding.
Enjoying word sounds, words playing, pictures seeping in.
Win! Score! Climb to the top!
Waiting. Freely associating. Imagining.
Do! Fret! Demand!
Swaying in the hammock without guilt. Still swaying.
Quit! Get along! Straighten up!
Slouching. Lazily making clouds into animals.
Find yourself!
Losing yourself. Living.
Why Nobody Reads Poetry Anymore